High intensity laser offers powerful and non-addictive form of pain management.
Through a natural process of energy transfer, it speeds up healing and regeneration. It is particularly effective in treatment of sport injuries like muscle strain or joint distortion, and back pain caused by herniated disc or disorders in the cervical region causing neck pain.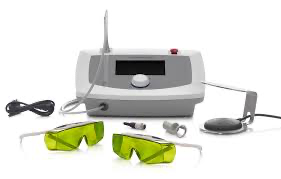 ---
Conditions Treated
Sports Injuries
Trigger Points (Sensitive Spot In The Muscle)
Sprained Shoulder
Ankle Sprain
Herniated Disc
Cervical Pain
Low Back Pain
Degenerative Knee Arthritis
Muscle Strain
Medical Benefits Include
Biostimulation
Pain Relief
Anti-inflammatory Rffect
Superficial Thermic Effect
Muscle Relaxation
Treatment with High Intensity Laser is safe and absolutely painless.